From coconut water to wine (Part 2)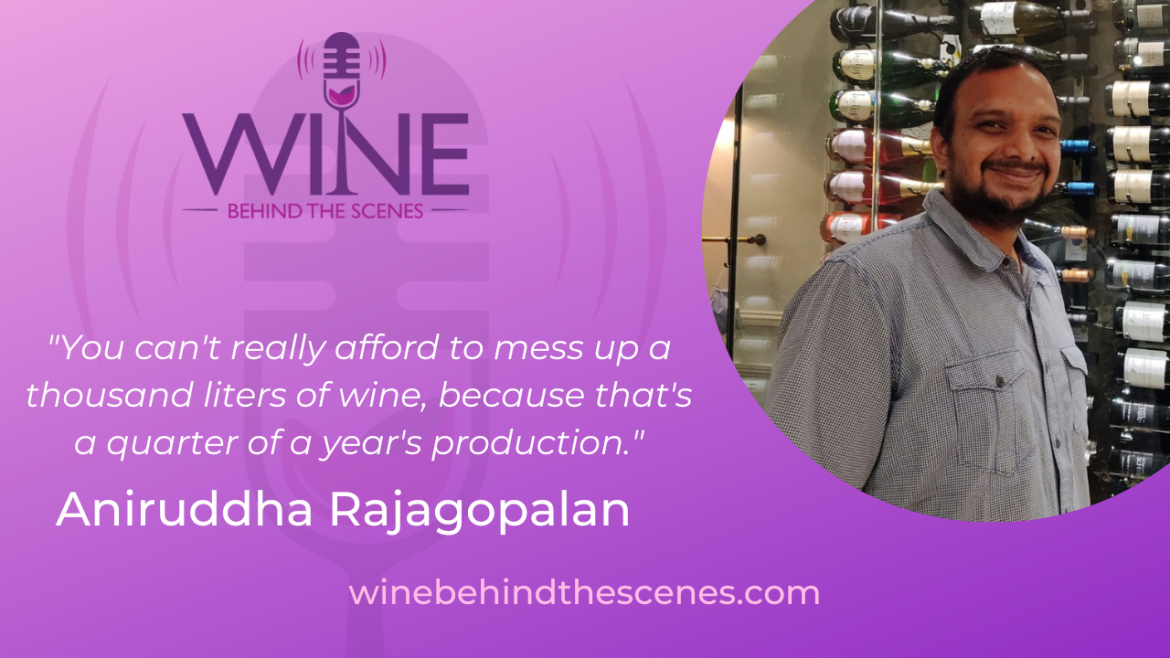 As a result of studying winemaking in Europe, Aniruddha Rajagopalan has traveled around the world, experiencing different cultures and learning different languages.
Along the way, he built friendships and a network of passionate wine enthusiasts.
Passion and hard work are behind the best wines he tasted and enjoyed. After working for both big and small wineries, his experiences showed him that wine-making is nothing like what is romanticized in movies – he got a real understanding of what the actual work is like in wineries. Nevertheless, he also enjoyed himself and had a good time.
During this episode, we follow Ani as he travels the world, gets back to India and works at a winery that produces one of the best wines in the world, and finally, lives in Ottawa, Canada.
What you will learn from this episode:
Understand that winemaking is not all that romantic idea of how the movies would let us fantasize about it [it's all about hard work and dedication]
Learn about India's winery located in one of India's historic sites and considered a UNESCO heritage [plus what made their wines one of the best in the world which have won awards from prestigious international bodies]
Find out the Indian grape varieties they grow and the geographical location they are situated in and where they export their award-winning wines.
Know about his travels that allowed him work and fun and what drew him to Canada and start afresh as a winemaker.
Aniruddha Rajagopalan was born in India. He earned a degree in Microbiology at St. Joseph College in Bangalore, India. As the opportunity opened up for him, he went to study and finish MSc in Viticulture and Oenology at Montpellier, France and Geisenheim, Germany.
He is proficient in both French and German languages. His work experiences include: Project trainee at the Centre for Sustainable Technologies, IISc/ in Bangalore, India, a cellarhand at Weingut Schloss Reinhartshausen and Wein und Sekthaus Schlossbergh in Eltville-Erbach and in Bingen, Germany, respectively. He was also once a cellarhand this time at Spring Creek Vintners Ltd. in Marlborough, New Zealand. Before coming to Canada, his last post was at KRSMA Estates Pvt. Ltd in Karnataka, India, as winemaker.
And currently, he is now a consulting winemaker at Fernwood Estates, Bainsville, ON; at the same time a tasting room staff at Buyers and Cellars Tasting Room, Ottawa, ON and a viticultural specialist at Databaum, Basel, Switzerland.
Connect with Aniruddha Rajagopalan:
Topics Covered:
01:42 – An Experience he considers completely different, nothing he'd imagined after finishing his master's degree
05:08 – The hard work behind the winemaking in a large winery and the friendships made with people across the globe
07:09 – Finally heading back for India this time, after having been to a couple of countries and applying what he's learned from his studies and experiences working as a harvester and winemaker
08:47 – Describing the winery in India where he works, its geographical location, and weather conditions
09:48 – What grape variety do they grow in KRSMA Estates in India? [plus a detailed description of the vineyard's soil type, the temperature it is subjected to, and how it affects the grape's flavor and taste and also the wine]
14:17 – Where do Indian wineries export to?
15:00 – What brought him to Ottawa, Canada and not to any of the countries he had traveled to?
18:59 – How he ended up working in the wine bar at the same time being a winemaker
21:42 – Enjoying what he's doing now, experiencing all the aspects of the wine industry
22:44 – What he loves about Canada that surprised him
Quotes from Aniruddha Rajagopalan:
"I'd gone from working in a winery that did about, let's say, 500 tons of grapes a year to another winery that did 50 tons of grapes a year, and now to a winery that did 10,000 tons of grapes a year. And, it was completely different."
"We were just constantly cycling through eight presses and filling them, pressing them, emptying them, cleaning them. Then they get filled again, then pressed again, emptied and cleaned. And this winery worked 24 hours and we worked 12 hour shifts."
"It's exactly as you said where you'd gone from being this very idealistic student with lofty ideas of how wine is made with ideas that could fill a million romantic novels about wine making into something that was completely the opposite. It was the antithesis of everything that you would understood and thought of wine making about, and that was a bit of a shock."
"I knew that viticulture in India is very different because we don't have winters or we don't have very harsh winters."
"Winters are very mild, and so there's no dormancy, and so you need to do your viticulture slightly differently."
"We were taught, and now we know that grape wines can handle temperatures of up to 50, 52 degrees before they die."
"Along with the concentration of the fruity characters, you also had the concentration of the tannins."
"The winery where I worked was seven hours' drive from Bangalore where my wife worked so it was starting to become a little bit unsustainable."
"We started looking at places, at countries where you might find the vineyards to be closer to the cities so we could both pursue our careers and still be together."
"Canada turned out to be one of those countries which we both liked. And so we decided we'd move to Canada."
"We agreed that I'd work as a part-time consulting winemaker (at a winery near Alexandria)."
"On the one hand I can make wine and I understand the production aspect of it. And on the other hand, I get to sell it and see it served and talk about wines and how they taste, how they're made, and basically the marketing side of it."
"There are certain aspects of life here that are unusual for someone coming from India. One being very positive is that I have never seen people who are so happy for so much of the time."