The sommelier from the other side of the volcano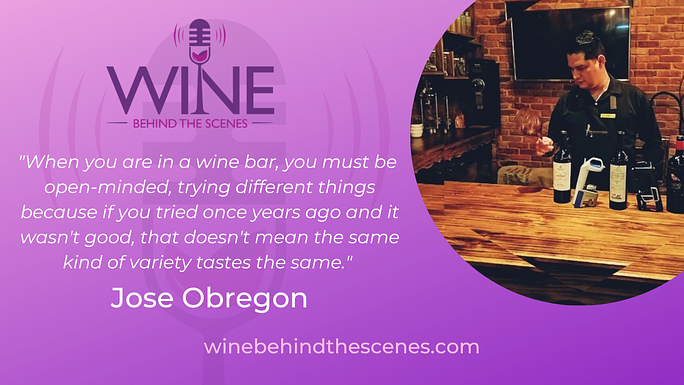 Most of us overlook our sense of smell, but not for those in the wine industry. Learning what something tastes and smells like takes a great deal of practice. And that is something of importance to sommeliers.
Grape varieties vary widely from region to region and country to country, so it pays to practice and train a lot. And this is where work and fun come together. The more you learn about your craft, the better you are at what you do. As Jose Obregon's case illustrates, furthering his education and studies took him to different resorts and countries in the world.
How fun would it be to work and experience life at the same time? You can taste and enjoy different wines and explore other countries' cultures and traditions while expanding your knowledge.
For Jose, it takes a lot of dedication and hard work to be a sommelier. However, when you help create an enjoyable experience for guests and see that in their faces, that makes it more rewarding.
Let's join Jose as he shares with us what his journey was like, initially working in his father's restaurant all the way to making a name for himself as a sommelier in his own country, Costa Rica and exploring other resorts and countries to hone a craft he is passionate about.
What you'll learn from this episode:
Find out the educational and travel opportunities tied to being a part of the wine industry
Discover how being a sommelier is not so much about selling wine but about selling beautiful experiences and memories.
Learn how being a sommelier opens up endless opportunities to learn and improve your craft.
Know about practices and processes for growing grapes and producing natural wine without pesticides.
Hear exciting and fun stories carved out of a life lived enjoying wine.
Jose Obregon dreamt of becoming a chef, and coming from a family who owned a farm and a restaurant, he got his training there and went to work with other restaurants. And finally, he got his chance to work at one of the biggest resorts in Costa Rica, where he met his mentor, who introduced him to the world of wine. And from there, he learned everything from food and which wine goes with what food. His career as a sommelier started soaring from there and continues as he furthers his education and plans to take a master's degree anytime soon.
At this time, he lives in La Fortuna, Alajuela, Costa Rica with his wife and two-year-old son. He works as head sommelier at Nayara Resorts.
Connect with Jose Obregon:
Topics Covered:
01:54 – Sharing an interesting description of where he works, how he got started there, educational and travel opportunities that come with his job
04:03 – His journey into the world of wine and the beautiful memories created by enjoying wine
10:59 – Exploring a different but exciting world of wine in another country
15:22 – What the training looks like to prepare for wine blind tasting
22:42 – The clients' open mindedness that comes when getting into the resort's wine bar
26:25 – Wine, for you to enjoy and not to get drunk
28:35 – Looking back at his life, is there something he wants to change?
Quotes from Jose Obregon:
"I don't sell wine; I sell experiences or create memories."
"You can find the same variety from different countries, and it [the wine] tastes different."
"When you are in a wine bar, you must be open-minded, trying different stuff because if you tried once years ago and it wasn't good, that doesn't mean all the same kind of variety tastes the same."
"People in Costa Rica they're starting to learn and also start to understand what wine is for; it's not to get drunk. It's to enjoy it, having a nice dinner with nice company."